Stanze IX edizione
Architectures of the air, architectures of the earth
Project of Wanda Nazzari
By Mariolina Cosseddu
National Gallery of Cagliari
Citadel of Museums- Piazza Arsenale
From November 12th until December 5th 2009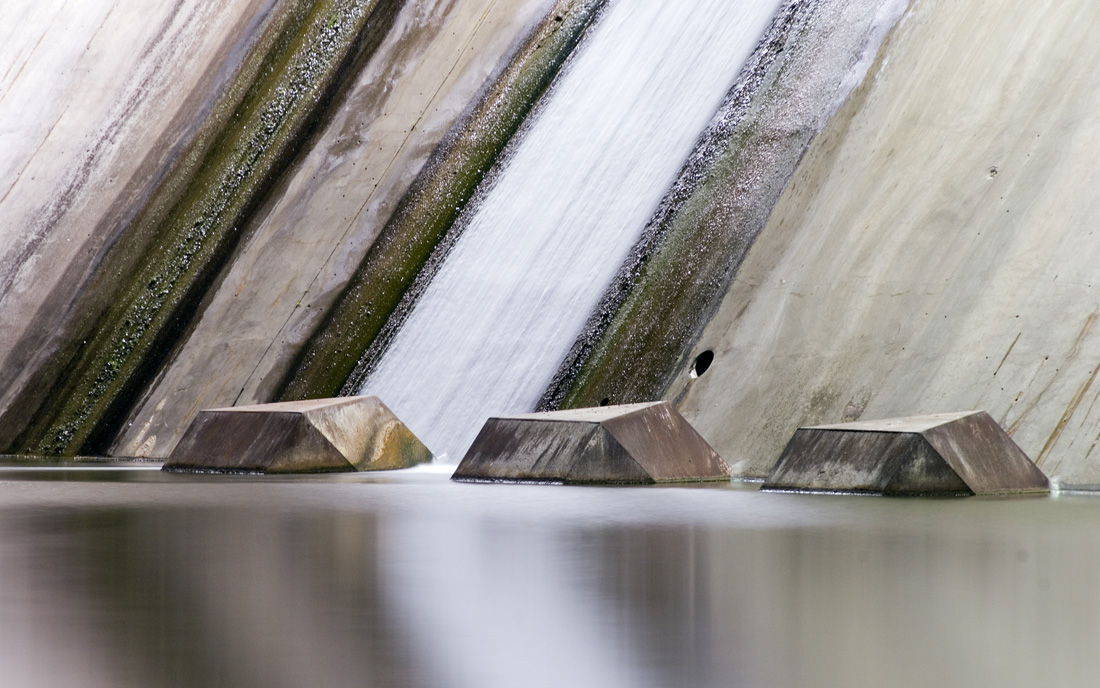 Some years ago, in the April of 1983, Giulio Carlo Argan gave to the press a text entitled "History of the art as a history of the city". In this collection of essays Turinese historian reflects about the architecture like "par excellence representative" discipline. He sustains that "inside the cultural urban system architecture has a complex disciplinary figure and is not so much dissimilar to this language: it is an autonomous discipline but, in the same time, constitutive and expressive inside the system". From these premises and considerations of Argan was born a desire and will to see an art, any modality of art, as reflections about this form that implies, contains, evokes and summarizes. Architecture as a space of visible and sensible, as a place of time, of past and future, as a metaphor of doing, building, imagining. For these reasons we thought about aerial, delicate, ephemeral, lived and dreamed constructions, but also about architectures that construct a world on earth and about architectures that born from earth and construct natural environment.
To think about architecture means to think about a system of values, a system of sense, structural and affective relations, a beauty of the form.
Invited artists offer their personal research, interpreting freely the theme, and a key to reach a present that is vaguely extended, a moment of eternity that a project contains and fosters, an existence as a hypothesis of the future. Real or utopian, terrestrial or celestial, architectural structures on view declare that a contemporary, passed borders of single arts, is open to multiform and dialectical research, sometimes also provocative.
Mariolina Cosseddu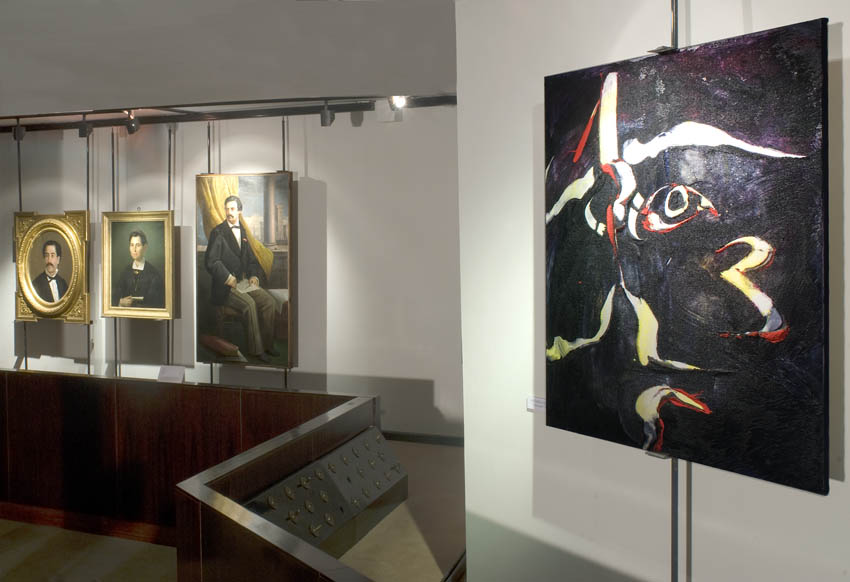 Antonello Dessì,  an expert of Dantean works and of classic and medieval astrological theories, did not  have any hesitation to project in this cultural context his architectural vision.  An architecture of signs and symbols that reminds a complex semiothic interpretations of the "Comedy", which text is published by Fazi Editore ("A time of the Ulysses. A time of the Veltro. Astrological geometries in "Divine Comedy") is the last and the most important result.  A difficult work of Antonello Dessì, that combines philosophic-literal and pictorial and performative interests.  He offers two pictorial works that remind metaphorical form of superhuman architectures and ancestral meaning of eternal existential dilemmas.  Realized with a superimposition of light palette knife movements of colour, that let glimpse a series of sails, works live in the strong chromatic contrast of nightly and luminescent colours. Synthetic and symbolic forms cross spaces and configure in figural schemes of esoteric alphabet but also in chromatic concatenation that evokes solutions of the some abstract geometries.
Mariolina Cosseddu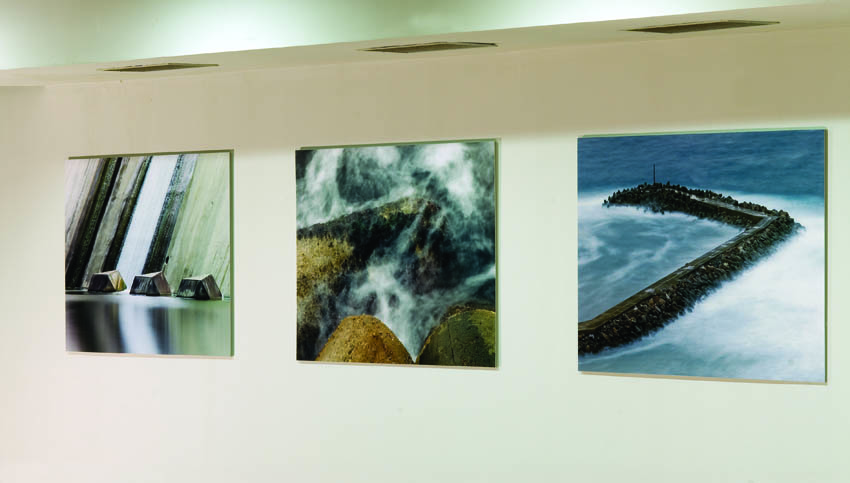 Photographic work of Stefano Grassi borns from the meeting of two opposite but complementary entities – water and stone, nature and artifice, architecture of earth that embanks sees, delimits lakes, blocks rivers.  Intimate relation between a mobility of water and firmness of architecture creates performances at the limit of abstraction that projected and well calibrated photos stop in visual suggestions. Human interventions with an aim to control a force of the water through the docks, weirs, harbours offer to photographer a rich material for elaboration of personal mythology of the landscape, more fantastic than real, more visionary than referential.
A choice of particular atmospheres gives an unavoidable importance to time- dawn or evening change a perception of things and distort this certain feeling about forms. A long preparative work, individuation of the spacial-temporal cordinates that utilize better conditions of the monochromatic and cold light, let geometrical structures emerge from the strict and clear plant. Created landscapes gain a dimension that sublimes a merely functional reality and transforms it in extremely symbolic images of this eternal fight between forces of nature and human abilities. A contrast between natural and artificial do not have to be read as a conflict, in case as a reasonable and constructive interaction, and photos created by Stefano Grassi is an eloquent representation of it. In the trilogy in exhibition we see different framings of environments caught by perspectives and distances that change visual field if we near or shade compositions, that in any case have harmonic and composed balance.
Mariolina Cosseddu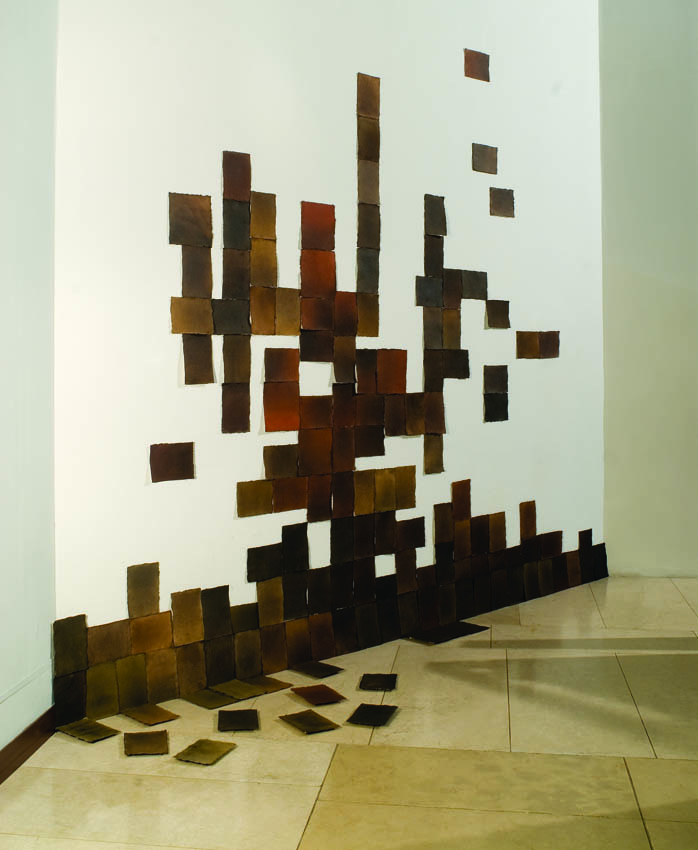 As a big asymmetric and irregular tapestry is deployed on the wall of Gallery a work of Adelaide Lussu, an abstract map of terrestrial geography. Small rectangular pieces of paper create an installation clearly thought for composing modules, that seems to follow a chassis of infinite possibilities of growth and variability. A form of the rectangle, the classic element of Renaissance architecture, in the vision of Adelaide Lussu becomes an archetypal structure of imaginary walk in countless ways of planning.  Pieces of paper hold all the chromatic versions of the colours of earth, that get evocative timbre effects, intensive or shaded, that declare an alive emotion of earthy material and pay homage to a colour like a primary element of the painting.
Also a support of the Indian paper, with a naturalness of its texture, becomes a perfect background to absorb earthes dissolved in water end to embellish chromatic solutions of dense and light shadows on the wall.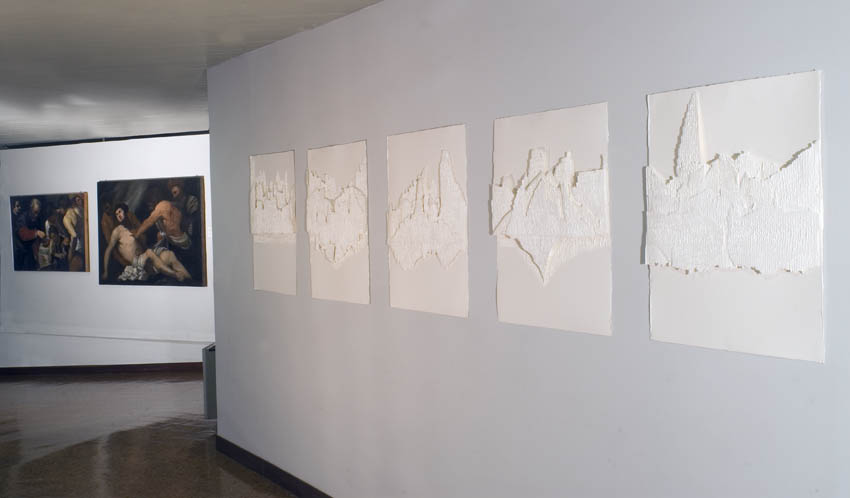 A lightness of the paper and immaculate whiteness of stratified material concretions of Wanda Nazzari appairs a quintessence of imaginary ideal cities, distant and inaccessible.
Architectures realized with a meticulous care, this eager and maniacal care that folds, carves, chases, composes and assembles parts for construction of plausible models of fantastic cities, these luminous and visionary constructions are places of desire, of memory, of dreams.  Placed on the differently projected levels relative to papers surface, forms marked in seemingly abstract structures, let sharp look to glimpse images of cities to admire from a distance, to determine a right distance between reality of the shaped material and evocative charm that releases it. "An eye does not see things but shapes of things that mean something different": in this way Italo Calvino described one of the many invisible cities from which works of Wanda Nazzari appair as a happy and casual representation. Grown maybe for succeeding superimpositions of the first and almost illegible drawing, "Mute Cities" of Wanda Nazzari does not speak about  their past but contain it "as a lines of a hand, written in the corner of road, in the bars on a window, in the handrails of stairs, in the antennas of lightning rod,  in the flagstaffs, every segment lined in turn of scratches, serrations, incisions".
Wrappings delicately embroidered by signs walkable with a look like a written pages, architectures without certain perimeters, sometimes slim and spidery like a Gothic cathedrals, others splitted as a mirror surfaces, are metaphors of some intimate and private travel, images of dialectical and speculative inferiority. Paper treated as a filigree lends itself to manual abilities which help Wanda Nazzari to invent a labyrinth in the heart of the broken urban material, asymmetric, elliptical, where it is easy to lose oneself in the illusion of the tangible reality. On the contrary, screens of the places where one never arrives, suspended air spaces that involve other infinite places, contain this mysterious secret of the cities glimpsed do not know if in the dream or in the waking, about which remain indefinite and incomplete profile.
Chaste and deserted cities receive and take care of magic stories of fairy tales of thousand and one night but also questions about uncertain and ephemeral present.
Mariolina Cosseddu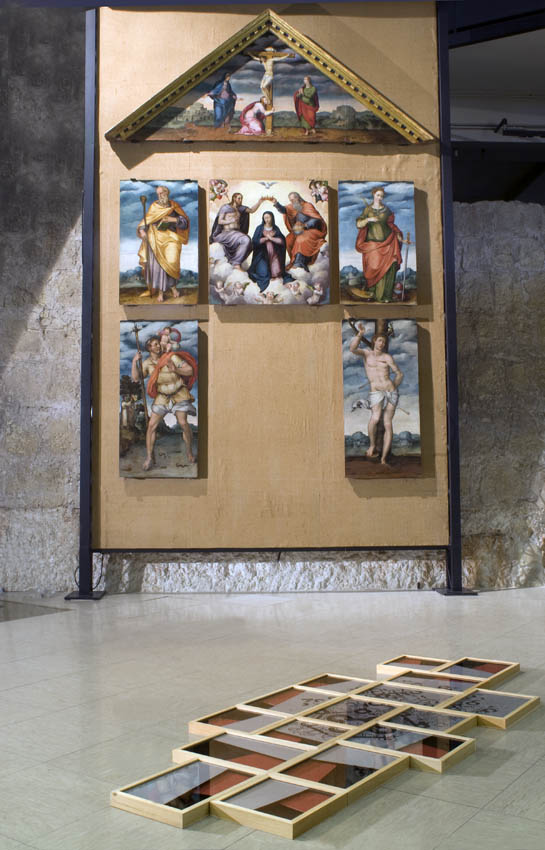 In countertrend with defeatist teories of urbanists and sociologists of our times, Igino Panzino, loyal to his Enlightenment roots, thinks architecture as a logical development from the past to contemporary.
He projects a wide installation that contains a graphic reproduction of the plan of nuragic complex of Barumini and holds it in the chassis of modular elements that broaden out in the opposite directions leaving in the centre archaeological structure. From this referencial context expands and generates a series of tridimensional panels that contain reliefs in grey, black and red cardboard.  
Seemingly in contrast, formal and chromatic, two moments of operation of Igino Panzino seems to denounce a conflict between nuragic settlements and contemporary urban expansion, between orderly development of architecture in the past and messy congestion of the present. It is clear that two fields somehow superimpose and intersect but do not cancel each other and do not confuse with each other.
Actually, a work of Igino Panzino shifts attention on two different fundamental aspects of architectonic and urban instances: on the one side a problem of the space, that is an important part of any artistic operation, and, from the other side, a survey and value held in trust to identity of one territory.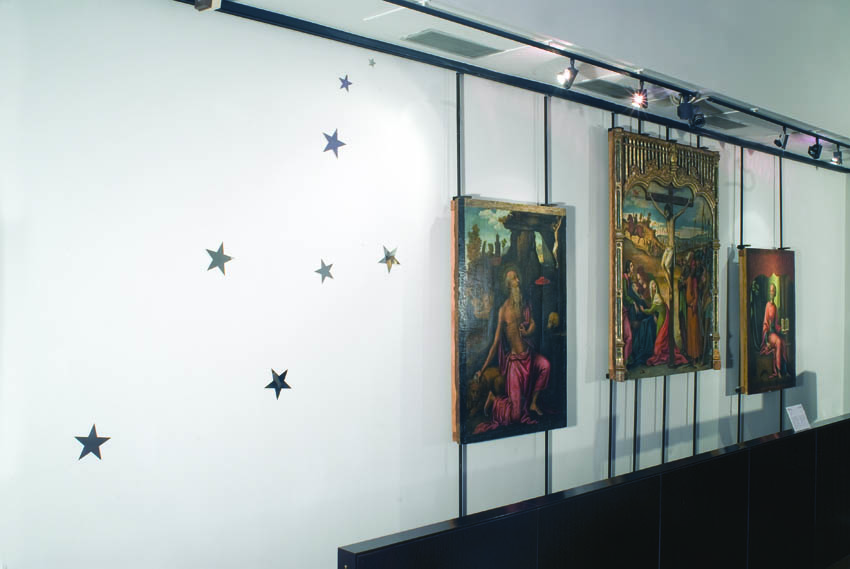 Nothing is more poetic than raise one's gaze at the sky and look for celestial architectures between endless stars of limpid nocturnal expanse. Happens to find constellations that assume forms that are surprisingly close to earthly forms, like Cepheus, a group of stars, passed through by Milky Way, that forms a kind of small house with a high and triangular roof and a facade stretched out like in the drawing of some moody kid. At a short distance from the North Star Cepheus, legendary king of Ethiopia, it is easily visible for everyone who knows to admire immense stellar vault, like Josephine Sassu, who looked at the sky and its cosmic regions with a surprise and playfulness of a novice introduced to some superior knowledge. It is known that a sky was a source of inspiration in the history of art, but only contemporary sensitivity could design that it will become an installation of mirror stars. Use stars, like Josephine Sassu does, to propose aereal architectures, essential and coordinated and, therefore, operation that incites to daydream, to think an overturned world and project in hemisphere, that overpower us, the same desires and the same anxiety of some earthly becoming. Builders who gave to houses on earth a form of the parallelepiped towered over by triangular cover, had to be inspired by that house in the sky. But what Josephine Sassu realizes on the walls of National Gallery is a celestial variable of her "temporary monuments" that, insubstantial and incorporeal, levitate in the space mocking to rhetorics of monumental solemnity. Of a kind is ""All that I would like to give you", minimal installation that makes from Cepheus a lyric and playful gift, act of love from artist to careful and knowing recipients.
........................................................................................................................................................................................................................................................................................................
.......................................................................................................

in collaboration with:
.............................................................................................................