Man Ray 1995 - 2005
[sigplus] Critical error: Image gallery folder mostre/2005/02-05/atzeni] title=[Gianni Atzeni is expected to be a path relative to the image base folder specified in the back-end.
On the occasion of ten years of activity of the Cultural Centre Man Ray of Cagliari, Multipurpose Space dedicated to Contemporary Artistic Experimentations
By Mariolina Cosseddu
Reopen the doors of the space that for ten years marked a cultural life of Cagliari and not only, is an event that has to be celebrated with a careful and measured sense of reflection.
This decade saw in the heart of the old town a gallery and an association of the cultural operators around  of which were organized the most important artistic initiatives of the city.  Inaugurated in September of 1995 with a support of Salvatore Naitza, Cultural Centre, entitled not randomly in the name of the great American artist Man Ray, immediately was connoted like a multi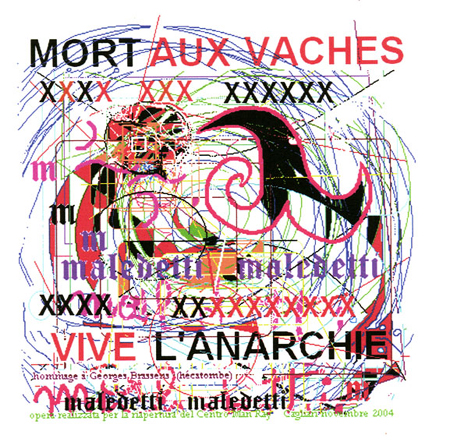 functional space, directed towards various experimentations and able to channel an incredibly wide series of artists,
musicians, critics and professionals of performance.
Wanda Nazzari and Stefano Grassi gave life to this initiative, with a big dose of courage and passion, tireless agitators of the social-cultural context that is often slumberous and careless if not indifferent to visual arts.
An association, that not tries to achieve any profit and is founded on the free adherence of charter members, had a patronage of Culture Department of the Region of Sardinia, of the Province of Cagliari, of the municipality of Cagliari, Quartu, Sinnai, Siliqua, Soleminis, Sarroch, Villanovaforru. An expositive activity had its beginning from the foundation of association and did not stop in spite of the closing of the site in via Lamarmora in 2003, like in the case of the exhibition of "Rooms" organized in the Museum of the Region "Sa Corona Arrubia" of Villanovaforru.
If it is unthinkable in this site to retrace initiatives in their entirety and chronological precision, it is however possible to remember appointments that connoted an expositive work. With a continuous and regular cadence happened around twenty annual exhibitions, with an overall number of around 150 expositions.  There were some strict
ly thematic exhibitions, born from an idea, a necessity, a solicitation condensed in a formal or conceptual suggestion and offered to artists invited to participate. It is worth it to remember "Becoming Nude", "For Naitza", "Artists Toys", "Praise of the White", "Stop of the Time" and "Line Makes It Visible". It is also important more systematic meetings modulated annually that became a regular appointment and varied during the years. It is a case of "Rooms" or "Walks of the spirit", "Imperfect future" or "Crossovers". In this case it is about exhibitions of wide scope that every time were in charge of critical discretionary of one curator who plotted main theme and kept an eye on performance.
A distinctive aspect of cultural activity of the Man Ray has been always represented by interest for young and more present tendencies of the contemporary. If in every event offered by the Centre works of young artists were enhanced and presented next to the personalities of more certain depth, in "Imperfect Future" their presence and operative ability became a dominant of the art conceived in progress and without conditions on the level of choices and language. Visual art, music, theatre, dance, multimedia ex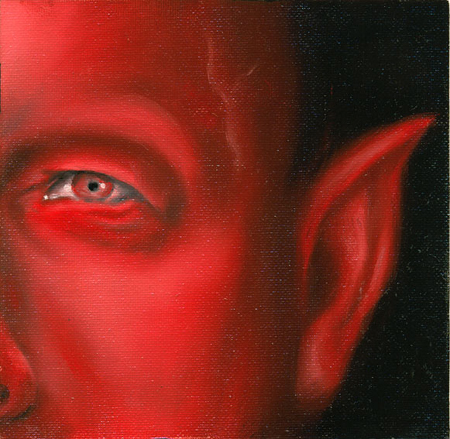 pressions were alternated in a cultural happening, absolutely creative and original.
The actuality of the research and promotion of emerging artists is an important part of the Association but it is a case also to remember a figures that signed a history of the Sardinian art of the second part of twentieth century. From Aldo Contini to Maria Lai, from Primo Pantoli to Gaetano Brundu, from Gino Frogheri to Paola Dessy, from Tonino Casula to Giovanna Secchi, from Wanda Nazzari to Attilio Della Maria, from Nino Dore to Rosanna Rossi, from Igino Panzino to Gabriela Locci, to Zaza Calzia, Giuseppe Pettinau and Salvatore Coradduzza, and Caterina Lai, Antonello Ottonello, Aldo Tilocca, Gianfranco Pintus, Antonio Mallus, to cite only some of them, until more recent generation of Danilo Sini, Gianni Nieddu, Stefano Grassi, Monica Solinas, Alessandro Meloni, Pinuccia Marras, Efisio Niolu, Salis & Vitangeli, Enrico Corte, Andrea Nurcis, Daniela Zedda, Giulia Sale, Pastorello, Pietrolio, Marina Madeddu, Francesco Casu, Maura Saddi, Dionigi Losengo, Adelaide Lussu, Japanese Satoshi Hirose, American Arthur Lindsay.
There were various assiduous collaborators in these ten years: Rita Atzeri, Antonello Casu, Alessandra Menesini, Mauro Nannini, Gabriella Perra, Nora Scano. It is also important to remember precious critical collaborations of Claudio Cerritelli, Placido Cherchi, Lanfranco Colombo, Giannella Demuro, Ivo Serafino Fenu, Anna Maria Janin, Alessandra Menesini, Gianni Murtas, Mauro Rombi.
On the adjoining and parallel front took place and was structured a didactic activity, strong point and vital engine of the entire system. Created by Stefano Grassi as a School of Photography it remains, after ten years of life, a reality of organic and complete formation.
Around the specificity of didactics coagulated conferences, workshops of the history of art, training courses in visual arts and video that documents various performances and activities.
Mariolina Cosseddu
Gallery
Silvia Argiolas

{gallery}/mostre/2005/02-05/argiolas{/gallery}
Luisanna Atzei

{gallery}/mostre/2005/02-05/atzei{/gallery}
Gianni Atzeni

{gallery}/mostre/2005/02-05/atzeni] title=[Gianni Atzeni{/gallery}
Alessandro Biggio

{gallery}/mostre/2005/02-05/biggio{/gallery}
Gaetano Brundu

{gallery}/mostre/2005/02-05/brundu{/gallery}
Zaza Calzia

{gallery}/mostre/2005/02-05/calzia{/gallery}
Antonello Casu

{gallery}/mostre/2005/02-05/casu{/gallery}
Lorenzo Casula

{gallery}/mostre/2005/02-05/lcasula{/gallery}
Tonino Casula

{gallery}/mostre/2005/02-05/tcasula{/gallery}
Ines Cireddu

{gallery}/mostre/2005/02-05/cireddu{/gallery}
Salvatore Coradduzza

{gallery}/mostre/2005/02-05/coradduzza{/gallery}
Rosanna D'Alessandro

{gallery}/mostre/2005/02-05/dalessandro{/gallery}
Attilio Della Maria

{gallery}/mostre/2005/02-05/dellamaria{/gallery}
Paola Dessy

{gallery}/mostre/2005/02-05/dessy{/gallery}
Nino Dore

{gallery}/mostre/2005/02-05/dore{/gallery}
Simone Dulcis

{gallery}/mostre/2005/02-05/dulcis{/gallery}
Gino Frogheri

{gallery}/mostre/2005/02-05/frogheri{/gallery}
Stefano Grassi

{gallery}/mostre/2005/02-05/grassi{/gallery}
Gaspare Guccini

{gallery}/mostre/2005/02-05/guccini{/gallery}
Satoshi Hirose

{gallery}/mostre/2005/02-05/hirose{/gallery}
Caterina Lai

{gallery}/mostre/2005/02-05/clai{/gallery}
Maria Lai

{gallery}/mostre/2005/02-05/mlai{/gallery}
Angelo Liberati

{gallery}/mostre/2005/02-05/liberati{/gallery}
Arturo Lindsay

{gallery}/mostre/2005/02-05/lindsay{/gallery}
Gabriella Locci

{gallery}/mostre/2005/02-05/locci{/gallery}
Marco Loi

{gallery}/mostre/2005/02-05/loi{/gallery}
Dionigi Losengo

{gallery}/mostre/2005/02-05/losengo{/gallery}
Adelaide Lussu

{gallery}/mostre/2005/02-05/lussu{/gallery}
Marina Madeddu

{gallery}/mostre/2005/02-05/madeddu{/gallery}
Antonio Mallus

{gallery}/mostre/2005/02-05/mallus{/gallery}
Pinuccia Marras

{gallery}/mostre/2005/02-05/marras{/gallery}
Guglielmo Massidda

{gallery}/mostre/2005/02-05/massidda{/gallery}
Maria Grazia Medde

{gallery}/mostre/2005/02-05/medde{/gallery}
Andrea Mele

{gallery}/mostre/2005/02-05/mele{/gallery}
Alessandro Meloni

{gallery}/mostre/2005/02-05/meloni{/gallery}

Mirella Mibelli
{gallery}/mostre/2005/02-05/mibelli{/gallery}

Carla Mura

{gallery}/mostre/2005/02-05/mura{/gallery}
Wanda Nazzari

{gallery}/mostre/2005/02-05/nazzari{/gallery}
Gianni Nieddu

{gallery}/mostre/2005/02-05/nieddu{/gallery}
Efisio Niolu

{gallery}/mostre/2005/02-05/niolu]{/gallery}
Odilia

{gallery}/mostre/2005/02-05/odilia{/gallery}
Paolo Ollano

{gallery}/mostre/2005/02-05/ollano{/gallery}
Maria Grazia Oppo

{gallery}/mostre/2005/02-05/oppo{/gallery}
Nico Orunesu

{gallery}/mostre/2005/02-05/orunesu{/gallery}
Antonello Ottonello

{gallery}/mostre/2005/02-05/ottonello{/gallery}
Primo Pantoli

{gallery}/mostre/2005/02-05/pantoli{/gallery}


Igino Panzino

{gallery}/mostre/2005/02-05/panzino{/gallery}


Pastorello

{gallery}/mostre/2005/02-05/pastorello{/gallery}


Giuseppe Pettinau

{gallery}/mostre/2005/02-05/pettinau{/gallery}


Roberto Piazza

{gallery}/mostre/2005/02-05/piazza{/gallery}


Mauro Pili

{gallery}/mostre/2005/02-05/pili{/gallery}


Gianfranco Pintus

{gallery}/mostre/2005/02-05/pintus{/gallery}


Giorgio Podda

{gallery}/mostre/2005/02-05/podda{/gallery}
Stefania Polese

{gallery}/mostre/2005/02-05/polese{/gallery}
Rosanna Rossi

{gallery}/mostre/2005/02-05/rossi]{/gallery}
Anna Saba

{gallery}/mostre/2005/02-05/saba{/gallery}
Maura Saddi

{gallery}/mostre/2005/02-05/saddi{/gallery}
Giulia Sale

{gallery}/mostre/2005/02-05/asale{/gallery}
Giuliano Sale

{gallery}/mostre/2005/02-05/osale]{/gallery}
Salis & Vitangeli

{gallery}/mostre/2005/02-05/sv{/gallery}
Giovanna Secchi

{gallery}/mostre/2005/02-05/secchi{/gallery}
Gianfranco Setzu

{gallery}/mostre/2005/02-05/setzu{/gallery}
Virginia Siddi

{gallery}/mostre/2005/02-05/siddi{/gallery}
Danilo Sini

{gallery}/mostre/2005/02-05/sini{/gallery}
Monica Solinas

{gallery}/mostre/2005/02-05/solinas]{/gallery}
Giorgio Urgeghe

{gallery}/mostre/2005/02-05/urgeghe{/gallery}
Beppe Vargiu

{gallery}/mostre/2005/02-05/vargiu{/gallery}
Daniela Zedda

{gallery}/mostre/2005/02-05/zedda{/gallery}