STANZE 2002
Edition IV
Genius loci
By Alessandra Menesini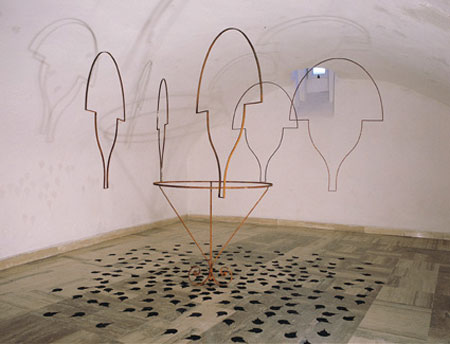 Bind oneself to the places, trace with sensibility of artist the layers of the time and of other's unknown memories.
In the edition of "Rooms 2002" - exhibition organized by the Man Ray Cultural Centre for the fourth year with the critical contribution of qualified curators- the conductor theme is that one to invite the chosen artists to meditate and act in the ancient spaces of the Amat Castle, where the Centre operates from 1995. Secular construction in the heart of the Castello quarter, the Amat Castle had, as all the historic buildings do, numerous changes of use, adapting its old walls to the changes of the time. In Via Lamarmora 140, where now is the seat of the aforenamed Centre of experimentation of visual arts, exactly in the low and not damaged part of the building, lived families that in this house conserved a lasting memory. Repeated visits of some old lady revealed that in these rooms passed off a family life with birth, matrimony and alight fireplace.  
Therefore, for a tribute to the "genius loci", the Man Ray center and the curator of the next realization of "Rooms", proposed to the chosen authors to plan the installations that consider this already extinct domestic phase. Far from the expositive occasions that now inhabit the space and are the continuance- different- of the other form of life, the artistic creativeness.
Chosen names correspond to artists who know how to confront the space and interpret it according to their vision, feeling it not as a simple container but as a physical and mental entity that interact with man and objects.
Written by Maria Dolores Picciau