Imperfect Future II Edition
An interactive project of art in progress of Wanda Nazzari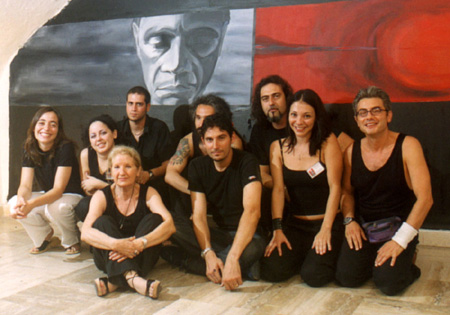 There are almost fifteen years since the happening reveals its vital and emotional charge. From John Cage until the group Gutai from Osaka, there were numerous operations that contributed to connotate this kind of experiences, mostly the performance of the sixties and seventies, where were created complex dynamics between various languages: cinematographic, pictorial, theatrical, musical, even gustative and olfactory. Such as "poetic actions" of the more recent years.
Discharge the own energy and, in the same time, psych up by the others, in the continuous exchange of forces, sometimes opposite, it became always more actual in the artistic field: almost a true liberating act, for screaming the own fears and anxieties of the own time. However, the act of the creation does not happen only with the mind, but with all the body, steadily tense to the liberation of the thought. The act of the creation is alive force, is freedom, is immense charge, is spectacle. "Imperfect Future" is all this; but it is also a joy to communicate, moment of meeting, of aggregation and of stimulus, mostly for the young people who this year are more numerous than last edition. Together, some less noted personalities that, with their presence, aside from rendering more important the event will present to the younger artists moments of growth and of reflection.
Wanda Nazzari

Barbara Ardau, Silvia Argiolas, Simone Dulcis, Paolo Ollano, Raffaele Quida, Giuliano Sale.


Marco Argiolas, Carla Casadei, Silvia Corda, Rossella Faa, Elena Ledda, Marco Ravasio, Gisella Vacca.


Rita Atzeri, Marco Nateri, Elena Pau, Stefano Raccis, Daniela Spissu.


Carla Onni, Simona Pusceddu "Danzateatrolab".


Cristiano Bandini, Giulia Clarkson, Franca Nurchis.